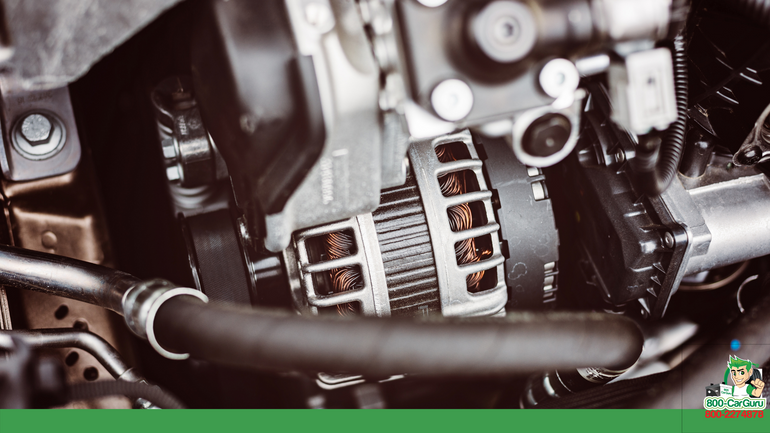 Does your car suddenly have flickering headlights? Are you experiencing stalling or other strange sounds whilst driving? Don't worry your car isn't suddenly possessed; there is a big chance it's just a failing alternator.  What is an alternator?
"An alternator is a key component in your car's electrical system, turning the energy from the crankshaft into useful electricity to power your vehicle's electrical systems and to help the battery recharge."
 When this component starts to fail, it can cause a plethora of electrical problems that ultimately causes a breakdown.
800CarGuru is listing down six symptoms for you to watch out for:
The Warning light
Most vehicles are equipped with a warning light on the dashboard "ALT" or "GEN." Usually this is the first sign that the alternator may not be working at its best. If your car is giving this indicator, do not ignore it - even if you this is the only symptom. Bring your car to 800CarGuru immediately for the required check
Dim or flickering Headlights
A strong signal that your alternator is not working properly is the flickering or dim headlights. The alternator provides power to the headlights, so the flickering usually means the alternator is struggling to perform.
Electrical failures
Systems that are powered by the alternator start to act up when this component starts going bad. The systems include power windows, power locks, dashboard lights, air conditioning, or your car radio. There could be other factors causing these failures, so you should definitely get it checked. 800CarGuru can do a detailed check to find the underlying problem.
Stalling or Other Sounds
Unlike the other symptoms this one is vague, as lots of things can cause unusual noises in the car. But sometimes alternator failure causes some of the engine bearings to fail which creates unusual rattles. This could be caused by the alternator, especially if its accompanied by some of the other symptoms mentioned above.
Car stalling or difficulty starting.
Your car doesn't just run-on fuel but also runs on electricity. It is the alternator that provides power to the spark plugs and burns the fuel in your engine. With a failing alternator, there may not be adequate power in the spark plugs to keep the engine alive, thereby causing it to stall for no reason while running, or create trouble starting. If you choose to ignore this symptom, your car may eventually not start at all.
Dead Battery
Batteries can be unpredictable they may fail on their own; however a failing alternator can actually cause the battery to drain out because it's unable to recharge it. A dead battery goes dead could therefore be a sign that the  alternator must be checked.
800 Car Guru offers full-service auto repair & maintenance, car battery change, tyre change, car ac gas filling, oil/lube change, fuel delivery, jump start, minor services & major services in Dubai, Abu Dhabi, Sharjah & Ajman.
To learn more about the signs of a failing alternator, or to schedule an appointment, call 800CarGuru now!