by SF Digital Studios Collaborator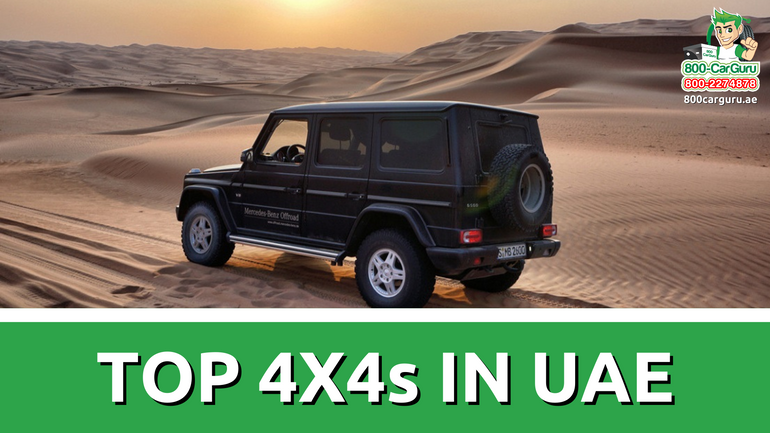 Four-wheel-drive vehicles are highly suitable for rough road conditions as they provide a comfortable and controlled driving experience, but with so many vehicle options out there, how do you know which car to choose? And what should you do if your luxury 4×4 car breaks down unexpectedly? Well, in that case, 800-CarGuru will be of great help; we are UAE's largest
car repair service provider offering tyre change, jump start, and fuel delivery, among other vehicle maintenance services.
Your off-road adventures in UAE will only get better if you invest in the top luxury 4X4s. The need for stress-free off-road trips has always lured people into purchasing the best 4X4 cars.
Here's our ultimate guide to the top best 4x4 cars in the UAE.
1. Jeep Wrangler Rubicon
The Chrysler-made 4x4 is one of the greatest off-road vehicles to take the automobile industry by storm! The Rubicon is a beast because it has the ideal size and features to thrive on rocky terrains. Fitted with enormous tyres, the Jeep Wrangler is muscular and always ready to conquer any rocky road. Added to that, the Rubicon's endless customization options make it very attractive to several buyers.
Drivers can switch between manual and automatic transmission depending on their needs. Running a 3.6 litre V6 engine channel on a 6-speed manual transmission, the Jeep Wrangler Rubicon delivers a whopping 285 horsepower allowing the driver to accelerate from 0 to 60 miles in just 7.5 secs!
2. Chevrolet K5 Blazer
The Chevrolet K5 4x4 is really a trailblazer in the off-road vehicle market. You can utilize its high level of customization and performance to improve your off-road driving experience in UAE. Using a 5.8 litre and a 6.2 litre V8 engine, this strong and sturdy 4×4 may just be the secret to a fulfilling desert drive. A wider wheelbase adds to its masculine status and look and you'll be the envy of others on your desert drive!,.
Upgrades to the Chevy K5 Blazer include a crankshaft, which offers a solid grip on the road. On 4-specs manual transmission, Blazer's 5.8-litre V8 engine generates 210 horsepower, while the 6.2 litre V8 engine produces 130 horsepower on a 3-speed manual transmission.
3. Toyota Land Cruiser
Few 4×4s match the Toyota Land Cruiser when it comes to off-road driving. Considered as a lion in the desert, top-rated Toyota 4×4s remain a popular choice for Dubai adventure companies.
Part of the reason for this demand curve simply has to do with the fact that Land Cruisers can tackle desert roads from any angle while assuring occupants a comfortable ride. Initially built around 1951, the latest models of Toyota Land Cruiser make off-road driving as smooth as possible.
4. Nissan Patrol
Are you looking for a powerful off-road 4×4 vehicle that can accommodate your family without any hassle? Well, you could order a Nissan Patrol. It has a legendary status in the off-road spectrum similar to the Land Cruiser. Across the United Arab Emirates, Nissan Patrols combine off-road driving plus on-road comfort.
The latest versions of the Nissan Patrol feature advanced features such as a hill-start-assist to prevent rollback. This means drivers will have maximum control even if they were driving on loose surfaces such as sand dunes and gravel roads.
5. Mercedes G-Wagon
The aesthetic appeal of the G-Wagon is on-point, but that's not the only reason why the 4×4 turns heads. Mercedes originally designed this car for use in hostile environments.
One big plus for the G-WAGON is that it can maintain its momentum while drivers shift gears between high and low ratios. Your ability to keep moving in the dirt could be a lifesaver if you encounter an unexpected situation in the wilderness.
6. Ford Bronco
This is one of the leading SUVs in the States. Like other top 4×4s in UAE, the Ford Bronco comes with a wider 92-inch wheelbase to improve its masculinity. Throughout the decade of its production, the Ford Bronco took the names of Ford V8 and Dana 44. Its V8 engine on a 3-specs manual transmission allows the off-road SUV to produce 105 horsepower and 158 lb. ft of torque.
Many Arabian off-roaders choose this car because of its great mileage, which stands around 16 mpg for city driving, and 13 mpg on the highway. These specifications establish the Ford Bronco as an equally convenient 4×4 for adventurers in Dubai, Abu Dhabi, Sharjah and Ajman, among other places.
7. Land Rover Range Rover Evoque
This luxury subcompact 2020 SUV is master class when it comes to off-roading. Two turbocharged 4-cylinder engines are available, with these two most powerful engines making use of mild-hybrid systems. With adequate ground clearance and wading depth, you can trust the Land Rover Range Rover Evoque to go places that other luxury cars never dare near.
The 4x4 system and terrain response driving mode can overcome practically any road. When you equip your Evoque with a surround-view camera system, you can increase your visibility by a large proportion.
8. 2020 Jeep Renegade
The Jeep Renegade is an entry-level subcompact off-road SUV with a cartoonish exterior design. Besides its well-known off-road capabilities, the Jeep Renegade also gives a smooth ride on the pavement. While the base model looks tempting, if you probe past the trim ladder, you will discover the well-endowed Trailhawk. It boasts a four-wheel-drive technology with skid plates, off-road tyres, and improved ground clearance.
Once you select your driving modes such as sand, snow, mud, or rock — you should be good to go anywhere. If you do get stuck somewhere along the way, a friend could use a standard tow hook to pull your Renegade.
When your top-dollar 4×4 breaks down at the wrong time, that may ruin your off-road adventures unless you book an auto repair appointment with the best mechanics!
800-CarGuru is UAE's largest car repair service provider, providing emergency recovery and roadside assistance, on-site repairs at your home or office or visit our state-of-the-art service center.
A 30-minute response time is guaranteed for any call out. Our full-service auto repair and maintenance cover Dubai, Abu Dhabi, Sharjah and Ajman. 800-CarGuru fixes all types of automobiles, including the top 4×4s in UAE. Talk to us now!