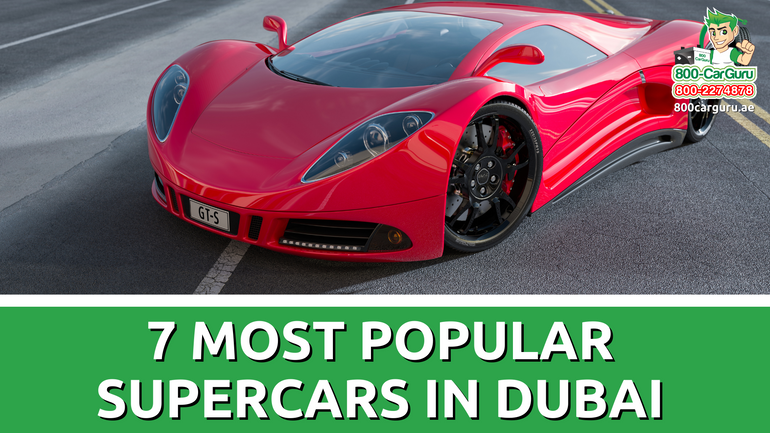 Dubai, the land of the rich and the beautiful! Dubai is one of the most stunning places in the world, leading the way in design and technology and so it makes sense that the people who live in Dubai enjoy all of the glitz and beauty that comes with that.
7 Of the Most Popular Supercars in Dubai
What better way to enjoy all that Dubai has to offer than get around town in a fabulous supercar! Supercars are part of the luxury lifestyle that can be enjoyed in Dubai and we've chosen some of the world's favorites to feature in this article.
What Makes Supercars Popular In Dubai?
Supercars aren't just an addition to your life; they are part of your lifestyle! Driving a supercar like a Bugatti or a Lamborghini isn't just a dream for many who reside in the UAE.
When people come to visit from all over the world, they have the opportunity to hire a supercar for the duration of their stay.
Much of what Dubai offers visitors can feel surreal, with its elegance and beauty, the buildings, the people, the food, and of course, the cars.
Dubai caters to drivers of luxury cars with impeccably kept roads and an overall high living standard. Residents of Dubai rely on 800-CarGuru for all of their regular and supercar needs - a luxury service for all to enjoy!
7 Best Supercars
Audi R8 V10
Audi Sport GmbH, the private subsidiary company of the famous Audi AG, designed, developed, and manufactured this stunning car.
The Audi R8 V10 is based on the Audi Space Frame. It uses an aluminium monocoque, which is based on the same principles as the frame.
Although the car debuted in 2003, it has been a mainstay of the supercar world, and through a number of face lifts, the vehicle has kept what makes it unique.
While the car had been previewed in 2003, it wasn't available until 2006, when it was launched at the Paris Auto Show.
It is one of the most popular cars in Dubai and one for your list!
Mercedes-Benz SLS AMG
No matter where you stay in Dubai, you will see one of these beautiful models of car. They are one of the most popular, and it's a showstopper.
The model has actually been discontinued but is still one of the most sought after supercars in the city. The Mercedes-AMG GT is the replacement, and while beautiful, the SLS reigns supreme.
The Mercedes-Benz SLS AMG is regarded highly in the Dubai supercar scene, and you won't have to wait to look before you see one of these beasts in action.
Lamborghini Aventador
You'd be hard-pressed to name a celebrity that doesn't have this supercar in their garage. Luxury supercars don't come much more beautiful than this one.
The Aventador is one of the most popular supercars in the world.
This two-seater, the mid-engine sports car, is a must for those who want to really feel what a supercar is.
Although in 2011, Lamborghini initially only wanted to produce 4000 units of the model, it was so well received that in 2015 they announced they had already sold over 5000 - a milestone.
The Aventador is named after bullfighting, and that gives some insight into its abilities and how it feels when you get behind the wheel.
They're fast, they're furious, and they're a complete head-turner.
Bugatti Veyron
The only car faster than a Bugatti Veyron is the Bugatti Chiron Sport. Unsurprisingly made with Germ engineering by the Volkswagen Group, the Bugatti is as fast as it is beautiful.
While it is developed in Germany, it is manufactured in France by the french automobile manufacturer Bugatti.
The Bugatti Veyron takes away everything possible to make it lighter and faster.
The carbon-fibre body makes the Bugatti Veyron light, and the 8.0 litre W16, 64v 2xDOHC quad-turbocharged petrol engine makes it incredibly fast.
The UAE has incredible taste when it comes to supercars, so you will undoubtedly see one of these on the roads - or hire one yourself, of course.
Aston Martin One-77
If you get your hands on one of these, you are a lucky person. There are only, as the name suggests, 77 models ever produced.
Unfortunately, one of these stunning cars met an untimely end in Japan, and so there are only 76 available.
You won't be surprised to hear that Dubai is home to more than one of them, and they are as exclusive and exquisite as you believe them to be.
The Aston Martin One-77 features a full carbon fibre monocoque chassis. The entire body is handcrafted aluminium and an engine, which can produce a whopping 750HP.
Porsche 918 Spyder
If you fell in love with the Porsche Carrera GT, then this one will blow your mind. The Porsche 918 Spyder is a plug-in hybrid sports car with a mid-engine. It gets its colossal power from a naturally aspirated 4.6 L V8 engine, and it can pump out 447 kW at 8,700 rpm.
The Porsche 918 Spyder began its life as a limited edition model in 2013, but soon customers were demanding more.
In 2015 the car was produced commercially and enticed Dubai's supercar enthusiasts due to the sleek design and incredible mileage.
Nissan GT-R
The Nissa GT-R debuted in 2007, and although it does have a successor, the GT-R remains the favourite.
Car enthusiasts, critics, and fans all appreciated the Nissan GT-R, and it became cemented into the supercar hall of fame as a must-have.
The Nissan GT-R gets its massive power from a VR38DETT V6 engine, which can reach a top speed of 196 mph and is 0-60 in only 3.2 seconds.
Nissan's eye-catching design is robust and rugged, yet sleek and modern, which means that it is the perfect option for the supercar lovers of Dubai.
For all your car servicing, general repairs and emergency car services give 800-CarGuru (800-227 4878) a call today!