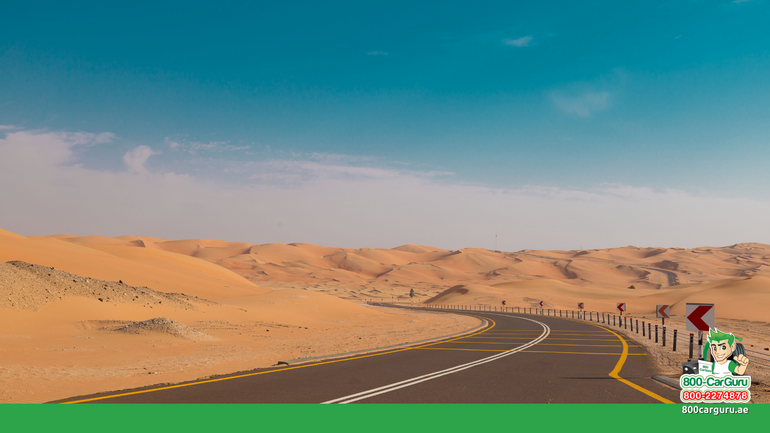 Driving isn't an activity for just getting you around. It's a useful mode of transport, but it's also a lot of fun for anyone who enjoys being behind the wheel. When you feel like going for a drive, you're in luck if you live in the UAE - some incredible roads can be found here, perfect for taking a speedy sports car for a ride or just for taking your family car on an exciting journey.
The amazing roads available will take you through some spectacular landscapes, from towering mountains to sand dunes, coastal scenery, and more. There are many roads to choose from if you're looking for a memorable drive, but here are six of the best roads that you can find in the UAE.
Jebel al Jaes, Ras al Khaimah
If you're looking for a mountain climb, you can't get any better than Jebel al Jaes. As the highest peak in UAE, located on the border with Oman in the Hajar Mountains, it's an impressive 6,268 feet high. It's just an hour away from Dubai, making it perfect for a day trip or even just a morning or afternoon when you feel like getting away. When you want a road that offers dramatic, sweeping landscapes but is still a pleasure to drive, this is the road you should choose.
Although the roads surrounding the area are more rugged, those around Jebel al Jaes are smooth and ready to drive. They offer challenges including sharp hairpin turns and tight corners, making the road perfect for anyone who's looking for a thrill. Getting to the top is worth it too, with its impressive views.
Jebel Hafeet, al Ain
While Jebel al Jaes might be the highest mountain in the UAE, Jebel Hafeet is arguably more popular and well-known. It's the second-highest in the UAE, at 4,000 feet high, and it has a beautiful road that's just waiting to be driven on. Although only just over 7 miles long, the road has an incredible 60 corners, offering a breathtaking drive up to the top. The unique road is certainly a draw, meaning that it attracts a lot of tourists and visitors, from drivers to cyclists. For that reason, it's best to avoid this road on the weekends and try to take your trip during the week instead.
As you wind your way up the mountain, you can stop at the several viewing platforms along the way - a chance to cool down your car or motorbike (and yourself) and take in the views.
Hatta Fort Hotel, Hatta
The short road past Hatta Fort Hotel might not seem like much at first, at only 6 miles long, but there's a lot more to it than you might imagine. Perhaps you're visiting Hatta to take in some of the local culture, but this road certainly offers an excellent bonus while you're there, or might even be the sole reason for your visit. This road is a tricky one, as exciting as it is dangerous. With its blind corners, deadly turns, and steep inclines, it's not for the faint-hearted!
Be sure to drive carefully as you make your way along this road. Keep your eyes open and your wits about you, and be prepared for the cliff edge to seemingly appear out of nowhere. The road might not be the smoothest there is, but it's definitely challenging.
Al Taween, Ras al Khaimah
Some of the popular driving roads in the UAE can get pretty busy, but others are more hidden. If you ask some thrill-seekers about their favourite roads, a lot of them will name Al Taween, but it's not as well-known as some of the bigger roads. It offers steep inclines and hairpin bends, giving you a challenging road that's a thrill to take on. You'll find it in the Hajar Mountains, just like the mighty Jebel Hafeet, but it won't be nearly as busy.
You'll need to concentrate on this road if you want to make it to the top. Make sure your car is capable of making the 30-40 degree incline and that you're ready to focus as you get behind the wheel. It will all be worth it when you get to the top and look out over the mountains.
Kalba, Sharjah
The Kalba-Sharjah road might not seem very exciting at first, but it's actually one of the best that you can drive in the UAE. It starts off as a rather straight road going through an industrial area, but you'll soon see the mountains ahead of you. After 30 miles, just before Fayyad, you start seeing some exciting S-bends. Further along, and there's a tunnel which will take you to Fujairah.
Once you come out of the short tunnel and into Fujairah, you can look forward to coastal views and a smooth, open road. With a road that's pleasant to drive and views that are stunning to look at, you can't get much better. It might take a while before you hit the beautiful parts, but you don't get anywhere without a bit of effort.
Liwa Oasis
Finally, the road starting at Liwa Oasis is a top pick not for the road itself but the unforgettable landscape and views you can enjoy when you're driving it. It runs along the Rub al Khali desert from Liwa Oasis to Al Ain, through a landscape of sand dunes, which can be a lot of fun to drive up and down. It might not be the best choice for a thrill-seeker, but if you want something that's less challenging but not less beautiful than some of the other options, this road is for you.
Going for a drive is only fun if your trip goes as planned. Don't let your road trip be ruined by car troubles - call us at 800-CarGuru (800-2274-878) and we'll be there within 30 minutes to get you back on the road.